Materials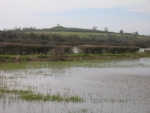 Most of the willow I use comes from Somerset, grown on the Levels where we are only a few metres above sea level. It is a beautiful area of countryside, often flooding in the winter months making fields of green turn to fields of water. It used to be a prosperous willow growing county and there is a long tradition of basket making in the area, although makers and growers have dwindled in recent years.
Different varieties have different qualities; they grow in varying lengths, thicknesses, colour and flexibility. Here you can see the different varieties growing at Musgrove Willows just before harvesting time in January and a beautiful array of bundles showing the different natural colours of willow bark.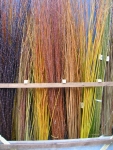 Black Maul is a very good general purpose willow, easy to use, also being resistant to pests and diseases. It is grown widely here and used for stripping to make buff, the peeled willow. Other varieties I use include Whissender, Flanders Red , Leicestershire Dicks, Noir de Villaine, Brittany Greens, Dicky Meadows and more.
Using different varieties is an important part of my work. I enjoy using the subtle shades of colour and often weave stripes into my baskets.