Sloane Square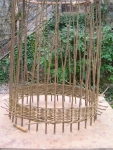 This commission was for 20 large willow collars, baskets without bases. Their diameter at the bottom is 70cm, at the top they are slightly larger, and their height is around 90cm.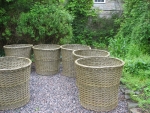 I used unstripped willow, inserting the uprights into a template made from a wooden pallet which I drilled holes into.
Planted up with wisteria trees and lavender and placed in rows down Sloane Square they represented a traditional British craft using West Country willow whilst decorating the square when the Chelsea Flower Show was on in 2006.