Courses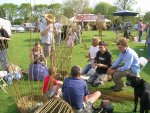 On these courses you will learn how to weave a round basket using unstripped willow from Somerset and Herefordshire. I like to offer a few varieties of willow so you can play around with the different colours.
Suitable for beginners, you can expect to complete a basket with a handle in the two days. Improvers might complete two!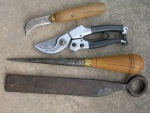 Tools are provided but bring your own if you have them.
The classes are small with a limit of seven people and lunch will be provided, as well as teas, coffee and cake.
Cost for 2 days £160 includes tuition, materials, lunch and refreshments. Accommodation not included.
For courses held at Boteti Getaways (https://www.botetigetaways.com/) in Walterstone, Herefordshire, there is accommodation available on site, four beautiful dwellings: Bees Bower, Gabriel's Yurt, The Phoenix Tree, and Mimi's Yurt. Please go to www.beneath-the-stars.co.uk to book a space. Or you can camp for £20 a night.
The Woodchester course includes Basket Weaving and Herbs for Healing and is a two day course suitable for those with basket making experience or without.
Cost is £110 and more details are available at: wildapothecary.com
To book on a course please click here for a booking form and send a deposit up to two weeks before the course date.
Please contact me for availability and if you'd like information for a bacs transfer.