Home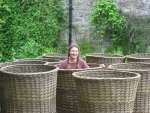 I began weaving willow aged 9 in a field in Wales. Later on with help from basket weavers Norah Kennedy and Jenny Crisp.
After a long interlude which included the beginning of a degree in textiles at Glasgow School of Art, I returned to the Somerset Levels where I spent my early childhood.
On the edge of the moors, near the ancient town of Langport, I live on the banks of the River Parrett. Here I weave willow grown in the fields around me, making baskets, sculpture and furniture, sometimes collaborating with woodworkers and metal workers.
A recent adventure took me to Ireland where I learned techniques from Joe Hogan, a very inspiring teacher.
I take something which grows abundantly in my back garden and make something functional, strong and beautiful, using a knife and my bare hands, something which will last for years but will decompose back to soil again.